P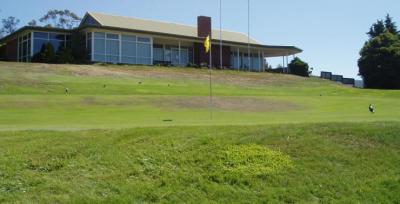 The club house as seen from the 18th green
The Richmond Golf Club is situated approximately 10 minutes from Hobart City and 5 Minutes from Hobart Airport. The course is located just 3km outside the township of Cambridge on the road to Richmond Village and has one of the most beautiful views overlooking the Barilla Bay waterway.
Richmond Golf Club is a private 9-hole country course and welcomes visitors and new members.
Richmond Golf Club is a member of the Southern Country Golf Association (SCGA), and the Tasmanian Golf Council and has reciprocal rights with Tasman Golf Club (Tas), Freycinet Golf Club (Tas), Bridport Golf Club (Tas) and Beacon Hill Golf Club in Victoria.
Richmond Golf Club Inc is supported by the Tasmanian Government.
COVID-19 update 21/5/20
Requirements applicable under COVID-19:
Golf is uniquely positioned to be played during times of social distancing and is set up well to cater for all government requirements through COVID-19 period and beyond.
Application in Tasmania from 18/5/20 is as follows:
* Groups of four allowed
* Club competition allowed
Golf Can now be played as follows:
* Social round of golf - an individual participant can play a round by themselves or in a group with up to three other players (i.e. max of 4 per group
*Club competition round of golf - requires at least two players to be in a group with a miximum of four players per group. A scorecard is to be submitted for competition and handicapping purposes.
We are pleased to advise that competition golf will recommence at Richmond Golf Club on Saturday 23rd May. Stableford events will be run for time being. Thursday stableford comps will recommence on 28th May. Associates will resume on Wednesdays.
Some important  COVID-19 requirements to note:
*Entry and Exit to and from the clubhouse has been modified. Starting sheets to be introduce for all comps. Social distancing to be observe at all times; Score cards (if used) to be self handled and marked by player only; Hole flags not to be remove from the hole; Ball in play to be handled only by the owning player; Sand scoops have been removed from sand boxes; Ball washers have been closed down.
* Clubhouse kitchen will operate from the week commencing 25th May under strict COVID-19 requirement. Pro shop takeaway sales will be available to members playing competitions.
The health and safety of our members, associates and volunteers continues to be the Club's primary consideration as increasingly restrictive measures are being imposed by government and regulatory bodies in the battle to contain the spread of the COVID-19 virus. We will update this page as changes are introduced.