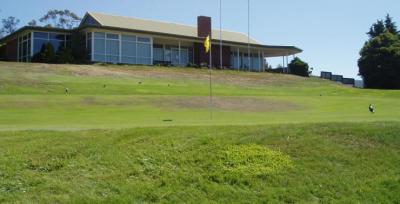 The club house as seen from the 18th green
The Richmond Golf Club is situated approximately 10 minutes from Hobart City and 5 Minutes from Hobart Airport. The course is located just 3km outside the township of Cambridge on the road to Richmond Village and has one of the most beautiful views overlooking the Barilla Bay waterway.
Richmond Golf Club is a private 9-hole country course and welcomes visitors and new members.
Richmond Golf Club is a member of the Southern Country Golf Association (SCGA), and the Tasmanian Golf Council and has reciprocal rights with Tasman Golf Club (Tas), Freycinet Golf Club (Tas), Bridport Golf Club (Tas) and Beacon Hill Golf Club in Victoria.
Richmond Golf Club Inc is supported by the Tasmanian Government. 
Due to heavy rain, the course is closed from Monday 15/8 and will be reassessed Friday afternoon 19/8 in reference to weekend competition.
When the course re-opens it will still be very wet in places so please obey the Ground Under Repair (GUR) and buggy no go signs and zones marked by BLUE lines on the fairways and around the greens to protect the course. 
Please use YELLOW tee markers for all social or practice rounds.
Winter rules in place, preferred lies on fairways so you may pick up, clean and place your ball on fairways through to the green.  Plugged balls in general area of play can be picked up, cleaned and dropped for relief except in designated penalty areas.
Please tee up on the 5th fairway which is still particularly wet this time of the year.
Please also replace and then sand those divots on tee beds, fairways and area of general play to make sure the course bounces back post winter.
As always repair plug marks on those soft greens.  Thanks
SPECIAL NOTE FOR MEMBERS:  Richmond Golf Club - OneGolf System
During May 2022 the Richmond Golf Club will move to a new competition management system OneGolf via MiClub.  All competition bookings can now be completed via the touch screen kiosk at the golf club or online via the link below using your username and password log in.
 If you are having any issues logging on please contact the club on (03) 6248 5450